Categories
Editor's Picks
Most Read
Most Discussed
Feedback
By Category » Partners and customers
By Danna Bailey, Vice President Corporate Communications, EPB.
You gotta hear this bandwidth!
I must admit that I am a bandwidth groupie. And it isn't every day I get to hear bandwidth. But, in October, about 4000 of us heard what bandwidth can do for musical collaboration when two musicians played a duet, in perfect harmony, 2100 miles away from each other.
It was at the finale concert for RiverRocks, a 10-day festival in Chattanooga, TN celebrating the great outdoors. Legendary musician and Grammy-winning producer T-Bone Burnett performed "The Wild Side of Life" from a studio in Los Angeles with BR549 founder Chuck Mead on stage in Chattanooga, 2100 miles apart.
The concert needed EPB Fiber Optics' gigabit Internet connection (powered by Alcatel-Lucent's Triple Play Service Delivery Architecture) connected to LOLA technology (LOw LAtency audio visual streaming system) to get the ball started. Then the signal was transported to the USC Thornton School of Music on an Internet2 connection through the University of Tennessee at Chattanooga.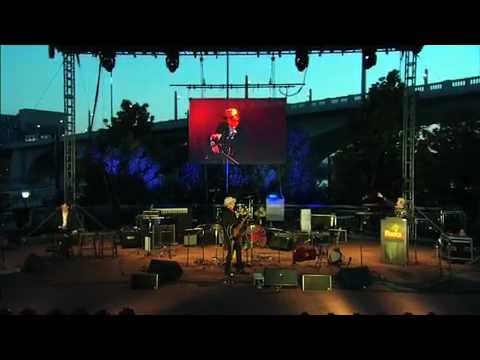 By Seán O'Halloran, President and Managing Director, Alcatel-Lucent Australia
At 3pm on the first Tuesday in November, Australia stops… to watch a horse race.
Seems crazy, I know, but if you're familiar with Australia's love of sports and even bigger love for major sports events, it starts to make sense. Take a look at Telstra's national internet traffic stats at race time and it becomes a fact hard to ignore.
So the popular saying is true: The Melbourne Cup, one of the world's great handicap turf races, is the race that stops the nation.
But the Melbourne Cup is more than just a single race. In fact, it's a week-long carnival, incorporating four days of racing that each attract up to 100,000 people to the famed Flemington Racecourse. It's a festival of fashion, food and, of course, some of the world's best thoroughbred horse racing.
And while Telstra noted a momentary dip in national traffic as the Melbourne Cup was run, there was no expectation that the thousands of on-course fans would reduce their demand. Australians are among the world's most energetic consumers of smart mobile devices (check out Telsyte's market study), and as is the case around the globe, keeping connected has become very much part of the big event experience.
By Sam Bucci, VP Terrestrial Optics, Alcatel-Lucent
IT transformation and the introduction of Cloud Services are changing the Data Center and networking landscapes, as well as posing new challenges. Crucial among these challenges is building a converged, virtualized Data Center network that enables scalable, dynamic, automated operations. Equally important are low-latency and high performance, cost and power efficiency, the rapid deployment of new resources, unified management, and secure operations. Such transformation fundamentally enhances the way applications consume compute, storage and networking resources both within and between Data Centers, as well as the way new services are introduced and provisioned.
Alcatel-Lucent has a long history of active participation with standards organizations, as a key contributor driving crucial networking standards to address key industry challenges. We believe that the development and implementation of open and interoperable standards are fundamental tools for addressing the challenges facing evolving Data Center networks.
By Laura Merling, Senior Vice President, Application Enablement, Alcatel-Lucent   
Today we announced the launch of the API Lifecycle Methodology, a new application programming interface (API) consulting and professional services practice and an associated methodology. 
This announcement comes on the heels of several projects with our customers ranging from detailed competitive analysis across the API landscape to architecture and design work, as well as API performance optimization.  We have taken the best practices across telecommunications and merged them with the lessons learned from the global API ecosystem to create an offering that allows communications service providers to identify new revenue opportunities and deliver new services to market faster.   
The new consulting and professional services practice is built on the back of our uniquely qualified and experienced team of veterans in API implementation, strategy and operations, as well as the key lessons learned and best practices gleaned from our engagements over the past years. 
Coupled with the API Lifecycle Methodology – which we have licensed under Creative Commons and made freely available to the larger API community - the new practice is designed to address the challenges developers, internal or external, face when integrating APIs and to help optimize an API program for success. 
APIs are no longer new to the telecommunications industry, but their true potential as a game-changer remains untapped. Operators are looking to APIs as a strategic means of internal innovation, shortening time-to-market and lowering costs for delivering new services while identifying new revenue streams in the process. With application providers having seized the end-user experience, now is the time for operators to redefine and reinvigorate their role in the value chain.  
When thinking about APIs, the most important thing to remember is that they are not a technology for squeezing revenue out of existing business models. They engender new ones. No company gets it right all the time, but the most successful of them are continuously improving their API ecosystems.   
APIs are the glue that ties together all the elements of the data economy – apps, the cloud and big data. But launching and supporting a dynamic API strategy is not easy – these programs need to be monitored, nurtured and directed as they evolve over time.   
13
To be an industry leader in Corporate Responsibility, Alcatel-Lucent has high expectations of its suppliers and the critical role they play within our global supply chain. In turn, our customers, like Verizon, expect the same from us. Verizon's Mariano Legaz recently met with Alcatel-Lucent suppliers to share how Verizon leads by example – and underscores the importance of every link. Read more from him in this post:
At Verizon, it is our belief that delivering long-term business results is just as important as delivering long-term social value. As our company Credo states, "We are good corporate citizens and share our success with the community to make the world in which we work a better place than it was yesterday."
If you took a look under the hood of Verizon's industry-leading products and services, you'd see that sustainability and responsibility is at the foundation of how we do business
We operate one of the largest commercial fleets in the world, and now have about 3,000  alternative-fuel vehicles. This, along with purchasing more efficient vehicles helped us reduce our fuel consumption by 13 percent in 2011, and by 14.7 million gallons since 2009. All new networking equipment from our vendors is now required to be at least 20 percent more energy efficient than previous models. Did you recently have FiOS installed in your home? If you did, your TV set-top boxes are 30 percent more efficient than previous models. And we're not just making your home more efficient – our many office buildings and datacenters are using smart building technology that has resulted in a reduction of 55 million kilowatt hours in energy reduction per year.
All in all, since 2009, we've reduced our carbon intensity – the amount of energy we use to transmit a terabyte of data – by more than 30 percent. By 2020, we'll have reduced it by 50 percent.
Get Email Updates
If you wish to subscribe to this blog and receive updates by email, please visit the subscription center.