Categories
Editor's Picks
Most Read
Most Discussed
Feedback
By Category » Partners and customers
By Xavier Martin, VP Corporate Marketing, Alcatel-Lucent Enterprise.
Last month, Alcatel-Lucent's Enterprise activity hosted its annual global industry analyst conference. We welcomed more than 30 analysts to Annapolis, Maryland to spend a day and a half with us. We also invited a few of our partners and four of our key customers who qualified for the fifth annual Alcatel-Lucent Dynamic Enterprise Awards program. To read more details about what went on at the analyst event, please take a look at our Storify. For this post, I wanted to profile our customers. We were honored to have four customers from across the globe join us at our industry analyst conference, which has served as the platform for recognizing our Dynamic Enterprise customers over the past five years.
By Xavier Trias, Mayor of Barcelona
Mobile technology has transformed the world for the better. It has also created a new thriving economic sector with endless future possibilities.
Barcelona is a city committed with culture, knowledge, creativity and innovation, which has always supported the mobile industry and mobile technologies. We have hosted the Mobile World Congress for the last eight years, and we will be the Mobile World Capital until 2018.
Yet, to really achieve this important goal, we must work together, governments, industry, and knowledge and research centers, in order to improve our citizens' well being and quality of life.  I have no doubt that a forward-thinking and audacious company like Alcatel-Lucent can well help Barcelona with this goal.  Not only for Alcatel-Lucent's passion for innovation as a leading mobile technology company, but also for its consistent commitment with people.
By Danna Bailey, Vice President Corporate Communications, EPB.
You gotta hear this bandwidth!
I must admit that I am a bandwidth groupie. And it isn't every day I get to hear bandwidth. But, in October, about 4000 of us heard what bandwidth can do for musical collaboration when two musicians played a duet, in perfect harmony, 2100 miles away from each other.
It was at the finale concert for RiverRocks, a 10-day festival in Chattanooga, TN celebrating the great outdoors. Legendary musician and Grammy-winning producer T-Bone Burnett performed "The Wild Side of Life" from a studio in Los Angeles with BR549 founder Chuck Mead on stage in Chattanooga, 2100 miles apart.
The concert needed EPB Fiber Optics' gigabit Internet connection (powered by Alcatel-Lucent's Triple Play Service Delivery Architecture) connected to LOLA technology (LOw LAtency audio visual streaming system) to get the ball started. Then the signal was transported to the USC Thornton School of Music on an Internet2 connection through the University of Tennessee at Chattanooga.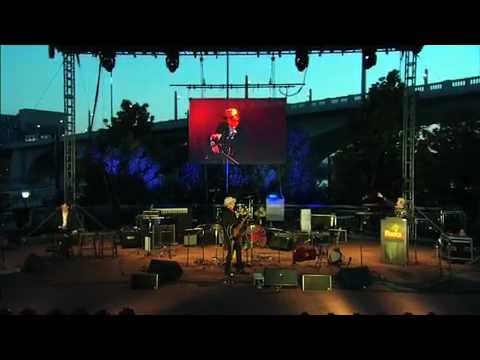 By Seán O'Halloran, President and Managing Director, Alcatel-Lucent Australia
At 3pm on the first Tuesday in November, Australia stops… to watch a horse race.
Seems crazy, I know, but if you're familiar with Australia's love of sports and even bigger love for major sports events, it starts to make sense. Take a look at Telstra's national internet traffic stats at race time and it becomes a fact hard to ignore.
So the popular saying is true: The Melbourne Cup, one of the world's great handicap turf races, is the race that stops the nation.
But the Melbourne Cup is more than just a single race. In fact, it's a week-long carnival, incorporating four days of racing that each attract up to 100,000 people to the famed Flemington Racecourse. It's a festival of fashion, food and, of course, some of the world's best thoroughbred horse racing.
And while Telstra noted a momentary dip in national traffic as the Melbourne Cup was run, there was no expectation that the thousands of on-course fans would reduce their demand. Australians are among the world's most energetic consumers of smart mobile devices (check out Telsyte's market study), and as is the case around the globe, keeping connected has become very much part of the big event experience.
By Sam Bucci, VP Terrestrial Optics, Alcatel-Lucent
IT transformation and the introduction of Cloud Services are changing the Data Center and networking landscapes, as well as posing new challenges. Crucial among these challenges is building a converged, virtualized Data Center network that enables scalable, dynamic, automated operations. Equally important are low-latency and high performance, cost and power efficiency, the rapid deployment of new resources, unified management, and secure operations. Such transformation fundamentally enhances the way applications consume compute, storage and networking resources both within and between Data Centers, as well as the way new services are introduced and provisioned.
Alcatel-Lucent has a long history of active participation with standards organizations, as a key contributor driving crucial networking standards to address key industry challenges. We believe that the development and implementation of open and interoperable standards are fundamental tools for addressing the challenges facing evolving Data Center networks.
Get Email Updates
If you wish to subscribe to this blog and receive updates by email, please visit the subscription center.