Categories
Editor's Picks
Most Read
Most Discussed
Feedback
GeSI report highlights ICT role in protecting the environment
By Katrina Destree Cochran (@KatrinaDestree), Director Stakeholder Engagement & Sustainability and Tom Okrasinski, Senior Manager, Bell Labs CTO Environmental Engineering
Earlier this week, one of our leading trade associations — the Global eSustainability Initiative (GeSI) — officially launched its second major report that the ICT industry has used as its key reference that illustrates the sector's critical role in combating climate change.
"GeSI SMARTer 2020: The Role of ICT in Driving a Sustainable Future" is an industry-wide report examining how ICT-enabled solutions offer the potential to reduce GHG emissions by 16.5% by 2020.  Launched at the UN Climate Change Conferences COP-18 in Qatar, Executive Secretary Christiana Figueres has endorsed the report.
Alcatel-Lucent was one of the most active contributors to the report, supplying telecom traffic data, life cycle GHG emissions data, methodology and communications expertise.  We wholly endorse the report's underlying premise that ICT is a powerful tool available to all industry sectors as they tackle the challenge of reducing their impact on the environment.
Some of the report's highlights include:
An enabling policy environment is required to realize the potential for ICT to reduce GHG emissions by 9.1 GtCO2e by 2020
Employing ICT to make better use of energy and fuel could result in savings estimated at USD$1.9 trillion
Progress made by GreenTouch™ in green research
The report greatly expands upon GeSI's landmark 2008 report, "SMART 2020: Enabling a Low-Carbon Economy in the Information Age," which positioned ICT as an enabler and part of the solution, to mitigating the dramatic consequences of climate change.  SMART 2020 was widely quoted by ICT companies, policy makers, academics and others as a source of inspiration for what might be possible in addition to the concept of SMART solutions being good for the environment.
It was the first time the ICT industry had collected carbon reduction and energy efficiency data and posted it in one place, making it possible for targets, commitments and SMART solutions to be compared side by side.  The ICT industry was given an additional mission — that of an enabler of other sectors to reduce their emissions.
The SMARTer 2020 report represents a more enhanced mission – new sectors were added and technologies that drive change – described as change levers were identified.  These involve such already available technologies and services such as video conferencing, building management systems, centralized distribution centers and real time data and analysis of power use.
One of the key objectives is for policy makers to use the new report as a guide to implement change.  The report begins with an impassioned forward, calling on policy makers to facilitate changes necessary for ICT to fulfil its potential.  Only with the dramatic speed ICT can offer can we make necessary changes to business as usual and empower nations to recognize ICT as a necessary component to sustainable economic growth.
Download the report (PDF)
Download the presentation (PDF)
Download press release (PDF)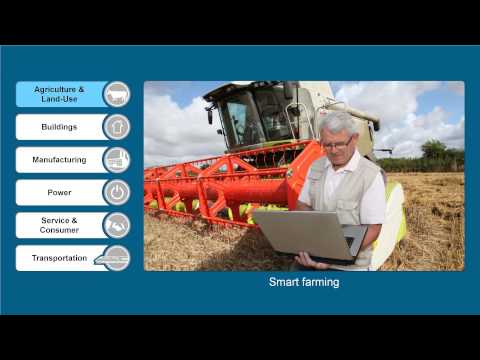 Get Email Updates
If you wish to subscribe to this blog and receive updates by email, please visit the subscription center.